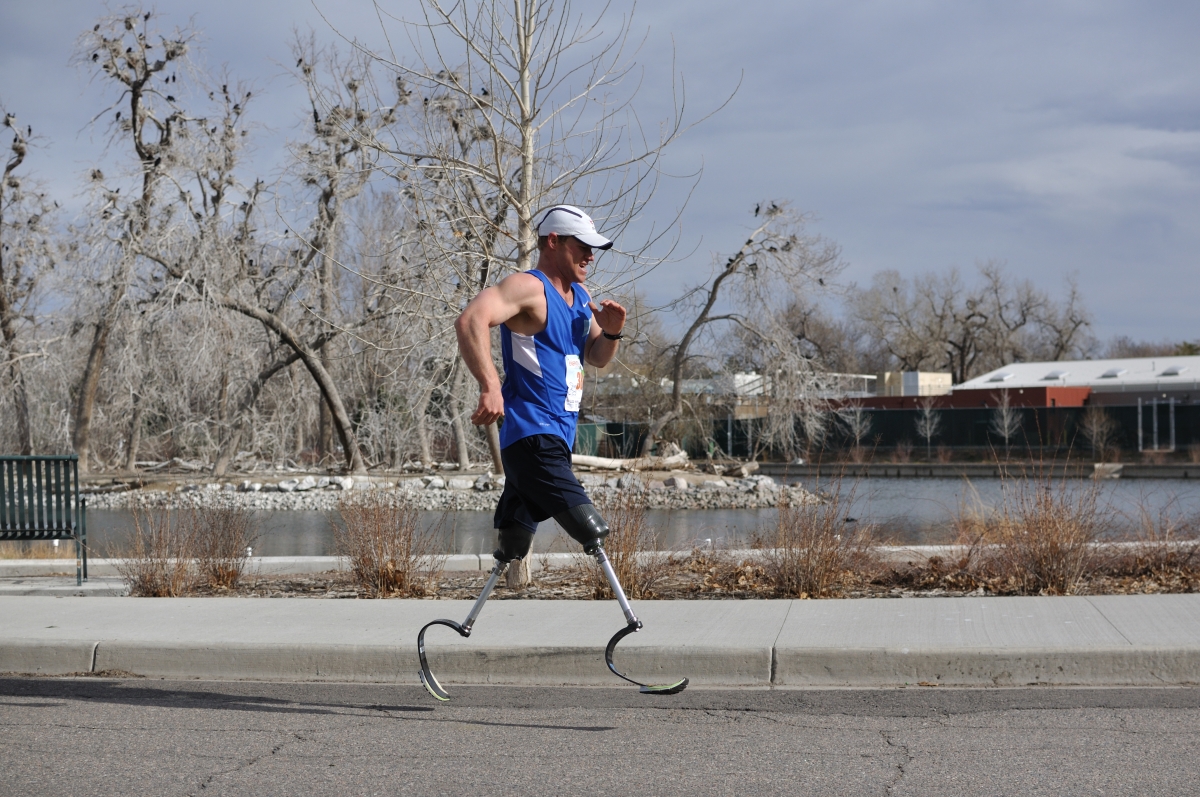 On days when it may seem grim, there is the quiet example of U.S. Navy Lt. Cmdr. Dan Cnossen to give us all hope. Cnossen is a leading contender to make the U.S. Paralympic team at next February's Sochi 2014 Games in Nordic skiing. He has a real shot to win a medal in both cross-country skiing and in biathlon, the skiing-and-shooting sport.
It's not just that, though.
Dan Cnossen, a Navy SEAL, lost both legs just above the knees in an explosion in Afghanistan in September, 2009.
It's how he has come back, how he can walk and run, and ski, and how it's all a new normal.
This is the way it's going to be now for those wounded in the Boston Marathon bombings last month.
Dan Cnossen's tale can show the way.
"We are a high-performance sports organization, and that means we work day in and day out with a pretty remarkable group of people," Max Cobb, the president and chief executive of USA Biathlon, said.
"And then there are times when for a moment you reflect on an athlete like Dan Cnossen, and on his progress, on his story, on his phenomenal tenacity. It's emotional. Dan makes you proud to be an American, proud to be on his team."
Cnossen says about the suggestion that he might be an example, "It's pretty humbling," adding, "I hope it can help."
Dan was born and raised in Kansas, on the outskirts of Topeka. He and his sister, Leslie, are the fifth generation in his family to grow up there, on a family farm.
He went to the U.S. Naval Academy in Annapolis, Md. The academy has a triathlon team that competes at the Olympic distance; he was on that team. Meanwhile, twice while in college, he ran the Boston Marathon. His best time, in 2000 -- 3:05.57.
After the academy, he made it into the SEALs. There can be no doubting his work ethic and mental toughness.
The explosion in Afghanistan took place on Sept. 8, 2009. Cnossen stepped on an IED, an improvised explosive device. He was unconscious for eight days.
When he woke up, in intensive care in Maryland, it was not much of a shock to realize what had happened. "I just kind of knew," he says now.
Dan's first year home is chronicled on a website that features a beautifully written collection of posts, many from his sister, Leslie. This one is from the first post, not even three weeks after the blast, from his mother, Alice:
"The medics who saved his life, the surgeons in Bagram and Landstuhl who stabilized him for transport to National Naval Medical Center at Bethesda, the excellent medical teams who have cared for him daily since his arrival here -- all have converged to bring him to his destiny today: to embark upon many new adventures and turn over a new leaf in his life: healing, recovery, rehabilitation, reconnection with family and fellow wounded warriors, perhaps serving as an inspiration to many as he starts this long, arduous journey toward renewed health and joyful living."
The goal, Dan said, was not just walking. It was running. That was what he had done on the afternoon before the bomb blast that night in Afghanistan. That was what he had done on the beach in San Diego, training for and with the SEALs. Or on the many trails wherever he was. "I was," he said, "always a runner."
On Sept. 8, 2010, exactly a year to the day later, Cnossen ran four laps around a track in Rockville, Md. "It was," he said, "a struggle," adding, "I wanted to quit after two. But I got four in."
Part of the struggle had to do with the technology he was using. He switched prosthetic devices and learned how to run with a straight-leg style, with his hips out wide. That made him more stable, meaning he could run not just on a track but venture out into, as he calls it, "the real world," onto pavement.
The switch also made him a lot faster.
He has, he said, run five kilometers, or 3.1 miles, in 17:50.
"Now I'm at the point I can do 5:10, 5:15 [per mile] if I'm going hard," he said.
He also has gotten back to the marathon. At the 2011 New York Marathon, he hand-cycled the first 16 miles. Then he ran the final 10-plus. His finish time: 2:38.
At the 2011 Warrior Games, Cnossen won three gold swim medals and a bronze in the 800 in track and field.
The 2013 edition of the Warrior Games wrapped up Thursday in Colorado Springs, Colo.; Cnossen was not there; he is in Bend, Ore., at a ski camp.
The beauty of biathlon is that it involves, as Cnossen phrased it, "moving and shooting." That's the same principle that drives infantry and special operations.
"As a sport," he said, "I thought this might be a way to represent something a little bigger. The community I come from, and thanks to the complete support of my chain of command, I have been able to remain on active duty. And I have come to love it."
On skis, "I can cover 30 to 40 kilometers through trails in the woods, and it's hard to do that in any other way. For me, I had really liked trail running before my injury. I am a good runner but I need pavement. Cross-country skiing gives me the ability to do that, the ability to get out into the woods."
The challenge in biathlon for Cnossen -- who this past winter won a silver medal at an IPC World Cup biathlon event in Wisconsin and finished sixth at the long-course cross-country skiing championships in Sweden -- is both the shooting and the skiing.
Of course he learned to shoot in the military. But that's different than acquiring the pacing it takes to shoot after racing hard.
Then there's the skiing itself. And, as Cnossen notes, he has only been skiing for just a little bit over two years.
That's why he's in the Oregon mountains in May.
"In the scheme of things," he said, "I can become good enough at shooting to win. It becomes hard to develop strength and stamina to ski fast."
Of course, a 2014 Sochi medal is the goal. But so many things have to come together, cautioned James Upham, the U.S. biathlon team's Paralympic coach.
"It's about setting that goal that's a little beyond your reach and going for it and following the plan," Upham said, adding a moment later for emphasis that while winning would be fantastic it simply can not be -- in this arena -- the measure of all things.
"When you hear whatever national anthem it is that's playing, can you say, 'I had my best day? My best year?' Can you say you are satisfied in that deeply spiritual way you can be as an athlete?' "
If you had to bet on anyone to develop strength and stamina to ski fast, wouldn't you like Dan Cnossen's odds?
This next passage is also from the family website; it's included in the final post, written a year after the blast in Afghanistan. Dan's sister, Leslie, wrote:
"Dan has no solid plans for the future quite yet – he is just going one day at a time – but I know that wherever he ends up taking himself and the rest of his life will make these triumphs of the past year seem like just a small fraction of what he's capable of."